Handwoven table napkins
Softly textured with a comforting weight, handwoven napkins offer more than lovely squares of cloth for tabletops and fingertips. Enriched with colors from nature and woven with exquisite detail, handloomed napkins are a reflection of the attention and care of preparing a nourishing meal and bring a welcoming sense of home, of belonging, to your table.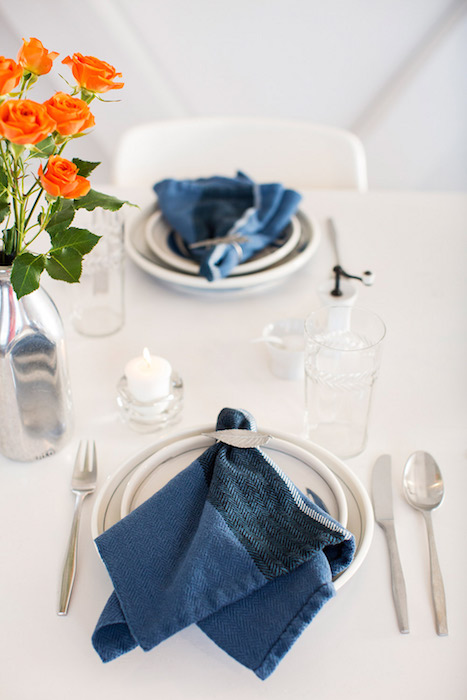 Imagine it's Tuesday evening and you're sitting down for dinner with your family. You take a moment to look around the room and see the people you hold close to your heart. Each is at their customary seat at the table, each has a placesetting – a plate, flatware, a glass and a handwoven napkin. As your family begins to pass the serving bowls, you lift the textured cloth to place it on your lap. The cotton is soft, the colors are soothing and your heart is full.
I've grown very fond of my napkin. I'm a bit possessive of it. For the first couple of weeks, I didn't want to use it because I didn't want to get it dirty. Now I bring it every day to work. It's become almost like a little security blanket – the comfort of home.

Rose Antinarella
Greenfield, MA
I weave cotton napkins to add intangible nourishment to a meal. My beliefs about the beauty of everyday life and the sacred potential of cooking and sharing food with others get woven into the cloth. The joy, contentment and connection that I experience in the creative process are also present in the cloth. These qualities feed our soul, whether we're eating alone or sharing a meal with others.
Save
Save
Save
Save