Bring nourishment and beauty
into your everyday with handwoven textiles
I weave textiles for cooking and dining.
Not shawls.
Not vests or jackets.
Not belts or infinity scarves or baby wraps.
But beautiful, useful items connected to nourishment …
Kitchen towels.
Table napkins.
Placemats.
And table runners.
The choice to specialize is pure and personal:
I believe that when we give our attention to, and beautify, homekeeping tasks, they become rituals of mindful nourishment and self-care, reminders of our own beauty and worth.
My heart is in the kitchen. Where the sensory, creative act of cooking feeds spirits and lives as much as the food sustains the body. Where hands and dishes are dried on a soft, beautiful towels. Where tables are set and napkins and dishes are chosen and placed with care.
And so, each piece I weave is an invitation — to be nourished, to choose beauty.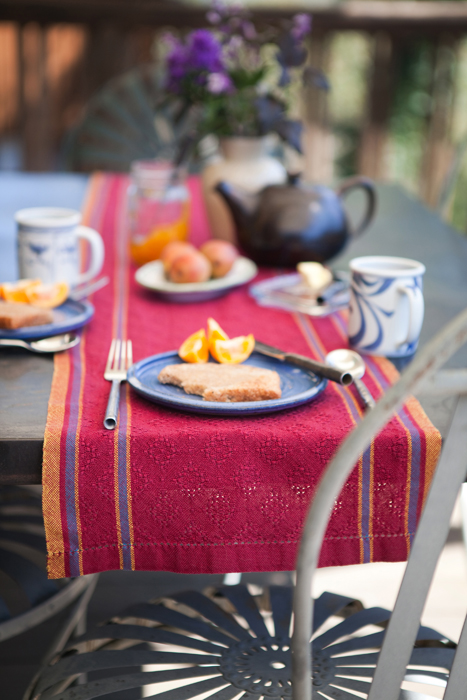 While I'm using the napkins, I often find myself touching them and looking at the fastidiously beautiful way that they've been finished. The hand-stitching and the labeling and the way edges are finished. The care and attention that were given to the napkin remind me to give that same kind of care and attention to me.

Lissa Boles
Scarborough, Ontario

You feel special when you use a handwoven towel. It has to do with the connection between people. When you use beautiful things made by people with love, who made them with love you invite that love into your life, bring it into your home. It doesn't matter how elegant or highly refined something made by a machine looks, the process that a person goes through by making something by hand is much more important. That's there too in the item when you're using it, what they brought to it as a human. Their humanity.

Melissa Larson
Georgetown, California