Life's lessons at the loom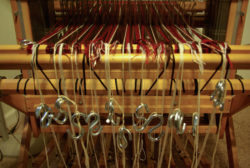 I sit down at the loom and settle in to untangle threads. I'd designed new towels, but, after weaving a ...

My desk is covered with a few weaving books, samples I wove in a workshop on color, graph paper and ...

"Did you hear that?" I ask my friend Jody as we wind a warp onto her loom together. Jody stands ...

Sometimes weaving drives me crazy. I'm not talking about the many times threads have ended up in a tangled mess ...

I have a project I want to weave: napkins to go with my Crisp Fall Day table runners. By "go ...

One Sunday after church, when I was a child, my family was invited to dinner at Rokeby, a guesthouse run ...

When I sit at the loom and throw the shuttle back and forth, I have plenty of time to think ...

I have a new towel design on the loom. I worked the design out on paper with the aid of ...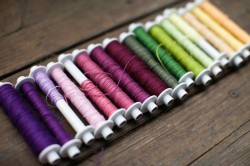 Weaving is pattern and color. Pattern is my comfort zone.  I'm left-brained and enjoy logic, structure and order.  Numbers, formulas and ...

I am weaving a new towel design and exploring variations. In this design, vertical ivory stripes alternate with twill stripes ...

I have a new towel design on the loom and it isn't weaving as smoothly as I would like. It's ...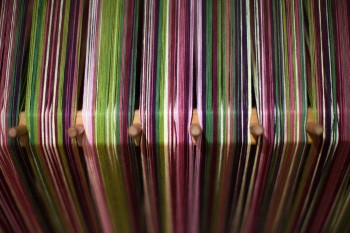 "You must have a lot of patience" is a comment I hear frequently at craft shows where I sell my towels ...

I am almost finished weaving a towel when I realize something is off. I'm not where I'm supposed to be ...