Handwoven kitchen towels
Handwoven kitchen towels are more than humble pieces of cloth for drying hands and dishes. They're cotton textiles that hold the promise of opportunity – a change in perspective that opens up your heart to moments of presence and grace, awareness and gratitude.
Touching the towel can serve as a silent meditation to be present. For me – somebody who has spent a lot of her life struggling with anxiety and not being very present – noticing, breathing, asking myself what is actually occurring right now in the moment, makes a huge difference in my life.

Caryn Cushman
Portland, Oregon

 
Perhaps your Sunday ritual is serving brunch. After cracking eggs into a deep bowl, you rinse your hands and reach for the towel hanging from a cabinet door. You turn, the soft woven cloth still in your hands, to admire the perfect circles of sunny yolks. Before giving your attention to whisk and herbs, you sling the towel over your shoulder. And for the rest of the morning, it moves through the kitchen with you, a ready reminder of mindfulness, close to your heart.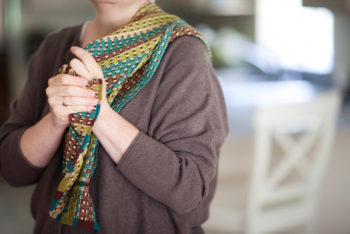 I weave kitchen towels with the knowledge that each piece is a tangible reminder to be awake to the beauty, worth and worthiness that each of us carries with us, within us.
I also weave them to be durable and to be used. They were woven to be the workhorse of the kitchen: to dry dishes, wipe hands and take hot dishes from the oven. It's okay if they get dirty – life is messy after all, and anything can get stained, broken, chipped, dented or cracked. That doesn't mean that the things we use every day shouldn't be beautiful. Far from it.
The beauty I notice in my everyday life is often the inspiration for the colors and patterns I use in my weaving, and they are always changing.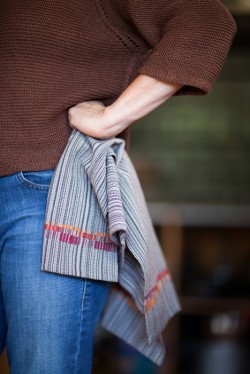 At first I thought your towel was too beautiful to use. I wanted to wear it. I wanted it to be a scarf. I can't remember why I started using it, but it was a leap to use something so beautiful for something so mundane. I was hooked as soon as I began using it. All the things I was concerned about fell away. I never looked back. It improves my quality of life because it's beautiful and feels good on my hands. It's got soul. It's got life in it. It's such a treat to use, even if it's a quick second to dry my hands. It's a moment of joy, of beauty, of texture that feels good.
Debora Seidman
Taos, New Mexico