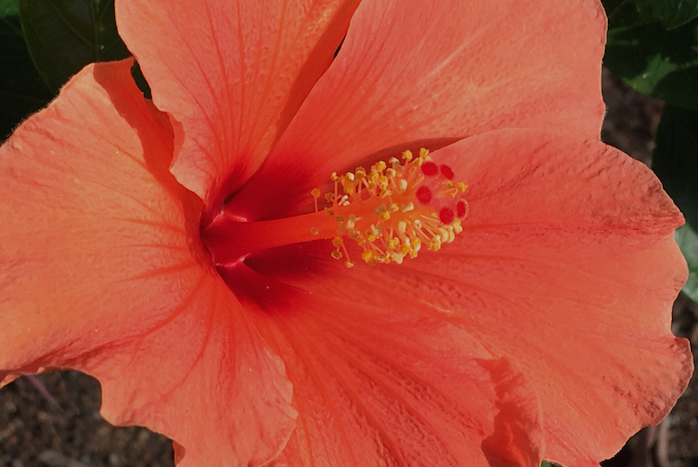 I walk in silence beside my mother. She's listening to classical music on her iPod. I'm thinking about beauty, specifically how it doesn't have to come with an expensive price tag attached. I start to notice all the beauty around me, all of it free.
The floral fragrance on the corner of Eighth and Oxford, the source of which I can't locate
The sound of forty feet jogging in synch as a men's athletic team passes us
The satisfied ah's my mother makes from time to time, suggesting that the music has stirred something in her
The lone pink-orange hibiscus flower at the edge of a garden
The smooth bark of crepe myrtle trees as well as the furrowed, puzzle-like bark of a deodar tree
The flat, gray stones in someone's yard
The specifics of my list aren't as important as making it.
Sure the specifics ground me in this southern California neighborhood on a slightly overcast Monday afternoon in January.
Making the list – turning my attention to the beauty around me — pulls me away from my worries and into the present moment. These stones, plants, sounds, and smells lift my spirits and connect me with something greater.
Having deliberately sought out beauty, I find myself more aware of beauty on other days – the welcoming smile of the receptionist at the rehab center; a tree trunk sparkling with white lights at night; the sunset as I catch my connecting flight in Denver.
These noticings are such a gift, a free gift that renews my energy. That teaches me about the vastness of beauty and reminds me that beauty is readily available. That assures me that I can experience beauty in a myriad of forms on any day in any place. All I have to do is pay attention.
Blessings,