My senior year in college my uncle came for a visit. After I cooked us a vegetarian dinner in my basement apartment, he kindly offered to wash the dishes. I watched in horror as he piled the dishes into the sink and filled it with hot, soapy water. This was not what my Home Ec teacher had taught me, namely that you start with the glasses, then silverware, followed by dishes and ending with the pots and pans.  In other words you move from the cleanest to the dirtiest.
I hope I kept my mouth shut as I picked up the white & yellow plaid dish towel and started drying dishes. Chances are good that I did not, grateful though I was that he was washing the dishes. It was an important moment of understanding that unless I wanted to wash the dishes myself, I had to let go and let my uncle do them his way.
Just as I thought there was a right way to wash dishes, when I started weaving kitchen towels I naively assumed using a cloth kitchen towel for drying clean hands and dishes and grabbing a sponge for spills and such was the norm. Now, many conversations about dishtowels later, I know better.
When I asked people how they use their Whimsy & Tea towels, I was intending to compile a list of possible uses. I wanted to offer options, so that the fact that household members use dish towels to wipe a spill on the floor doesn't prevent someone from owning and enjoying a handwoven kitchen towel.
Then the replies started coming in.
These rectangular pieces of cloth came to life in a new way as I was given glimpses into people's lives.
I began to picture Amy wearing a towel on her shoulder as she cooked and Penny laying the last tomatoes of the season from her garden on a towel to dry. I could visualize Pam making a point of carrying hers back and forth to the kitchen when she has guests and Barbara showing up at a friend's house for dinner with a bottle of wine wrapped in a handwoven towel.
As I read the replies I realized I wasn't just learning ways to use a kitchen towel. I was learning ways to weave beauty into everyday life.
Take these examples. There's an intentionality to each of these women's choices that goes beyond the merely practical.
"My 4 towels represent the 4 seasons and I change them on the first day of each season. The beautiful colors remind me of the differences between spring, summer, autumn, and winter. They hang on the handle of my oven and are used mostly for drying my hands or handling a hot pan. I enjoy seeing them when I begin my day with a cup of hot tea in the morning."
Karen Buchanan, Sonoma, California
"When I bake rolls, which admittedly is not often enough of late, I also like to use a basket and then one of your towels to wrap the rolls and keep them warm. I believe that the love and care that goes into designing and creating your towels, and the love and care making rolls pair perfectly to compliment any nourishing meal."
Marci Rau, Portland, Oregon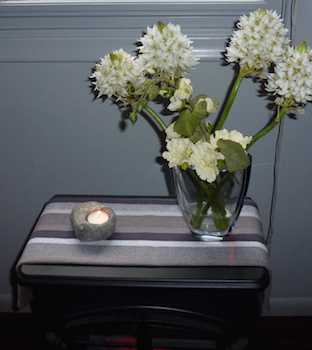 "Our current main use of our gift towel is on our faux "fireplace" in our gray painted bedroom. Your folded towel protects the heater top and keeps the candle and flower vase from rattling because of the movement of the cylinder that gives the crackling fire an authentic look. This way I get to enjoy looking at your towel all day long and not just when I wipe my hands in the kitchen."
Camille, Michigan
Were I compiling that intended list of ways to use a towel, I'd have:
Dry your hands
Handle a hot pan
Wrap freshly baked rolls in a basket
Cover a table or other flat surface
But there's a second list here too.  A list of ways to add beauty to everyday life:
Honor the seasons
Nourish yourself with lovingly cooked food and lovingly made objects
Place something beautiful where you see it often
There are so many ordinary moments as we go about our lives, so many details in creating a home, which can be infused with beauty. Using a handwoven kitchen towel is just one way to bring in that beauty.
It has been my heart's desire that people use their handwoven Whimsy & Tea towels to dry their hands and dishes in the kitchen. This is how I love to use mine, enjoying how soft and absorbent they are. My heart's desire remains that the towels be used, but as for how they get used, well, the possibilities are endless.
My invitation to you: The responses I've received have been such a gift to me.  I'd love to know how you use a kitchen towel to bring beauty into your everyday life.