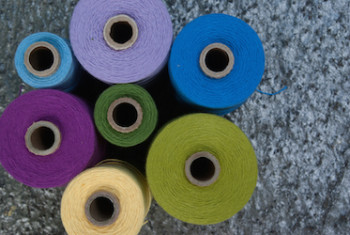 tubes of cotton for the Lazy Summer Day kitchen towels
Four-year-old Isabelle looks up from drawing a flower to ask Jessica, her teacher, a question. What's your favorite color?
My favorite color for what? Jessica notices the little girl's furrowed brow and continues, I have a different favorite color for clothes than, say, for my car.
Well, my favorite color is rainbow, says Isabelle and picks up a pink marker to draw another flower.
Color is very personal.
When I was Isabelle's age, my favorite color was unequivocally yellow. Probably a bright sunny yellow, but I'm not sure that I was picky.
Ask me now, and I'll pause. I've been driving garnet red vehicles for twenty-three years (and no I haven't been singled out by the police for speeding). Open my clothes closet and you'll see browns and blues, although there was a time when there was a lot of purple. I painted my house a warm yellow with red and white trim.
Everyone is drawn to different colors. At craft fairs and farmers' markets, I notice that people often touch towels with colors similar to what they are wearing.
I'm aware of my own color preferences for weaving, too.  I gravitate towards blues, perhaps because of their calming quality. I don't know what to do with bright oranges and pinks. I prefer medium and dark colors to light ones, but when I do choose pastels, I appreciate their quietness.
Sometimes I'll think, I need to weave some red towels to round out my offerings, and will set about coming up with a red combination. More often I'm inspired by something I notice in the natural world when I'm out walking my yellow lab, Codi. The various colors of dry grasses or wildflowers by the side of the road often make their way into towel designs.
It's important to me that I offer a wide range of options, so I try to push myself to weave beyond my own likes and dislikes. At a farmers' market one day a young woman, wearing lots of pink, commented, You don't have much pink. I took this as a challenge and set about finding a pink combo that I liked.
I enjoy weaving custom orders because someone else chooses the colors. They often pick combinations that I would not and I get to learn something new about color.
When I heard Isabelle say her favorite color is rainbow, my impression was less that she couldn't decide and more that she likes rainbows – that array of red, orange, yellow, green, blue, indigo, and violet.
I have a rainbow of colors available to me when I weave. Not just blue, but royal blue, Bermuda blue, navy, marine, cobalt, denim, and the pale blue of the sky. Not just green, but grass, kiwi, pistachio, olive, teal, dark forest, emerald. And more.
So what is my favorite color?
My favorite color is weaving. I'm immersed in a playground of colors where I get to explore and appreciate them and then let them go.
What's your favorite color? Has it changed over the years? Please leave a comment and let me know. I'd love to hear.
Warmly,
Marilyn
P.S. These Lazy Summer Day towels started with a special request for a wall hanging. I liked the combination so much that I wove some towels too. If there's a color combination you love, please let me know. I'd be happy to collaborate with you to create towels, napkins or table runners in your choice of colors.
Save
Save